Dust Trap® Activated Carbon Filter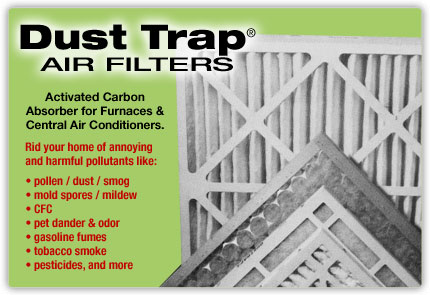 Dust Trap makes the air in your home breathable. Through the natural cleansing effects of activated carbon, you can rid your home of annoying and harmful pollutants like pollen, dust, smog, pet dander & odor, gasoline fumes, tobacco smoke, mildew, CFC, mold spores, pesticides, and more.
The average home contains many pollutants and gaseous contaminants from cleaning agents, laminated furniture, insecticides, and air fresheners. Insulation, weather stripping, caulking, storm windows and doors all contribute to making your home air tight and energy efficient. But, the result is that this efficiency locks in the pollutants and locks out fresh air. Dust Trap can make the air inside your home fresher than all outdoors.

Dust Trap is available in all sizes! Its construction and flexibility makes it easier to install. It can provide protection and filtration for as long as 4 months, but this depends on the concentration of contaminants ( pet dander, smoke, etc. ) in your home. It is advisable to check it every 30 days. Not recommended for use with heat pumps!

Call for further information, literature or place your order here.
Air Filters offers filters in a wide selection of filter media.
Dust Trap's Absorbing Difference

The primary function of conventional filters is to protect the heating and cooling units' motor and coil. Dust Trap revolutionized the filter industry by introducing innovative filter construction that combines passive electrostatic polyester and activated carbon. The activated carbon is nature's own purifier. It works by absorbing the pollutants and contaminants which are suspended in the air in your home. At the same time, Dust Trap protects your heating and cooling unit while protecting your family's health.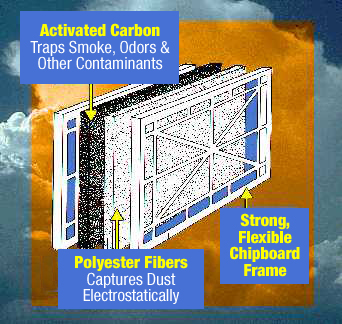 The Effect Is Instantaneous
The cleansing process begins immediately after you insert Dust Trap into your furnace or central air conditioner. It doesn't use artificial aromas to mask odors. You'll notice an absence of lingering odors and a reduction of dust.